Omegle Girls Alternative
What is the significance of Omegle in today's Society? Is it the past or the future? Are we hungry for human connection with strangers? If so, OmeXXX is the best alternative, giving a new level of freedom and enjoyment to users of our video chatting system. To use OmeXXX chat you must be at least 18 years old or above. Our promise to our growing community is that OmeXXX is and will always remain a completely free Omegle alternative! Get connected with a random stranger in a single click without registration or logins. With this exciting feature, people around the world experience something new and different every time they click "next" with top-quality HD videos and hundreds of sexy, hot, cute and charming strangers from around the world streaming videos of themselves and video chatting live.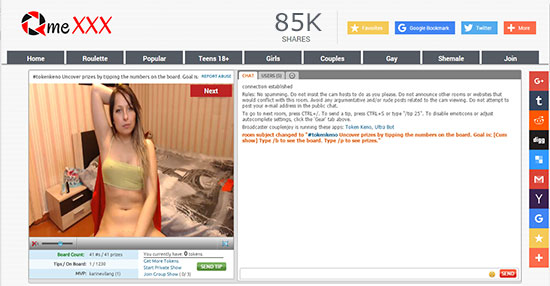 Free Video Chat Features
Talk to Random Strangers
Instant Free Cam Chat
Cam to Cam chat
Text Chat Free
Most Popular Omegle Alternative
Why Talk to Strangers?
How amazing would it be to chat with strangers all over the world and see them live on HD video? Our well known Omegle Alternative system offers you exactly this opportunity! One single mouse click and instantly there is a random chat partner on your screen. OmeXXX offers users the thrilling concept of Omegle on a whole new level: excellent HD video quality und hundreds of strangers from all over the world are online directly in front of you. OmeXXX cannot be held responsible for the content that is sent by its users.
OmeXXX is not affiliated or associated with Omegle, we are simply offering our users an alternative with less restrictions and more features.